Are you looking for a chance to learn a new skill this winter? Or, are you a freelancer who is willing to hone your skills? Alright then, this is definitely for you. Thej academy has an amazing idea to make this time more interesting for you. Presenting 'Online Abacus Training' from Thej academy.
Here's What We Offer
We at Thej Academy offer online abacus training for aspiring entrepreneurs and abacus coaches. Anyone within 40 years of age is welcome to join our abacus program online.
To start with, let's learn abacus at the comfort of your homes with the help of our trained mentors. 60 days is all that you need to get certified as an abacus coach.
We have created this online learning program so that anyone who wants to learn abacus during this time can benefit from this. Furthermore, if you are willing to become a professional abacus teacher who is struggling to find a start, then this is for you!
Given the current situation with the COVID, cyclone, and social-distancing concerns, learning online seems the ideal choice. We at Thej Academy help you remove your fear of math. We teach abacus from the basics, and gradually speed up. Our expert mentors are specially trained in 'Teacher Training'. Also, we make learning abacus online equally as effective and impactful as the offline classes.
Besides, we have had many successful batches of students who have excelled in abacus coaching online. And now, we are extending our service to coach the parents, freelancers, and any interested candidates, to become successful abacus teachers.
Our Goal
The main goal of online abacus classes by Thej Academy is to help aspiring abacus teachers to learn from the comfort of their homes. While physically visiting the class these days can be unsafe and against the social-distancing rules of the government, the online classes struck us as the need of the time. Leaning at the comfort of your home will be indeed a relaxing and fun way to learn abacus.
We at Thej Academy aspire to help budding abacus teachers, to get their feet on business, despite the pandemic.
Online Abacus Training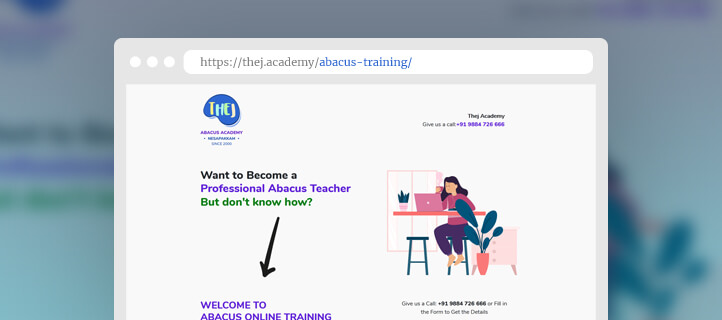 Would you believe it if we said you can be a certified abacus trainer in two months? At Thej Academy, we certainly make it possible for you.
We start by introducing you to the Types of Abacus. We do this so that you understand the history of this equipment. Then we move to the basics. Following this, we teach addition and subtraction of one or two-digit numbers. As you progress, we introduce you to multiplication, division, and complimentary formulas.
These formulas help to solve larger numbers at an easier rate. As huge as it sounds, our trained teachers make it a cake-walk for you. Once the coaching is done, you will be a certified abacus trainer. Following that, you will be able to start teaching abacus on your own.
Who Is an Ideal Candidate for Online Abacus Training?
No doubts, aspiration can come from anywhere.
You might be a freelancer willing to explore abacus and make a living out of it
Are you a parent of a child learning abacus? Were you curious about teaching abacus after seeing your child play with mind math?
Are you a housewife willing to teach abacus to make the best out of this lock down period?
Make the best out of this offer by Thej Academy. Anyone from even the farthest related fields can join our online classes to become a pro at abacus coaching, in less than two months. This is what we guarantee at Thej Academy.
This Is All You Need
All that you need is time, dedication, and the burning desire to become an abacus teacher. We have a record of training more than 100 candidates from various fields on an abacus. They have turned out to be successful abacus teachers. Anyone willing to become a certified abacus teacher can reach out to us.
Becoming an abacus trainer has never been so easier, that too at with online coaching at the comfort of your home.
Why Thej Academy?
We at Thej Academy have over 20 years of experience in Abacus training. Our proud pillars are our highly skilled teachers. They make you feel like abacus training is one of the easiest, in the world.
Thej Academy proudly gleams as the best abacus coaching center in Nesapakkam, Chennai. We don't believe in teaching students in groups. Our trained teachers provide individual attention to each candidate, to help them understand the abacus better. This way, our students get a clear idea of what they are learning. Also, they reap the fullest benefits of what they signed up for.
Speaking of fees, we provide the most cost-effective abacus training in the entire city. What's best is that we bring it to your houses through online teaching.
Why Trust Thej Academy?
Thej Academy has a successful history of Abacus Direct Competitions and Online Internationl/National Level Abacus Competitions as well. We also provide a Variety of Courses like Midbrain Activation, Singapore math, Vedic math, etc that you can explore and increase your mental accuracy
Summing it up, you can blindly trust Thej Academy to bring out the best in you.
Is Online Abacus Training Worth for Aspiring Abacus Teachers?
Abacus is an art of math, worked with mind and fingers. Learning abacus takes patience, dedication, and focus. With the right mentor, all this falls right into place. Our program structure is crafted in such a way that it makes learning abacus online, much easier.
Our teachers focus on everyone individually, to push them to their best. Firstly, meet our teachers online. Talk to them about your aspiration about becoming a certified abacus trainer. They will train you in such a way that it feels like a fun activity, more than learning. Yes, all that you need is the desire to learn abacus and to become a certified trainer.
What We Help You With?
While aspiring to be an abacus teacher, learning abacus in Thej academy helps you with the following.
Improved problem-solving abilities
Better and faster calculation skills
Improved mind and body coordination
Sharp focus and observance
Being an abacus coach needs the above qualities as well. That is why Thej academy focuses on having these in our curriculum while teaching abacus to aspiring candidates.
How Can You Become a Certified Abacus Trainer, with Thej Academy?
Thej academy has a unique approach towards students and trainers. For aspiring abacus trainers, the program scheme is as follows.
Firstly, register your details on our website
Meet our teachers online and talk about your aspiration of becoming an abacus trainer
Following this, get hands-on abacus training one-on-one, with the first level free of cost
Learn at the comfort of your home, our mentors will guide you throughout the process
Learn abacus in only 60 days
Finally, complete your course and receive your "Certified Abacus Teacher" certificate from us
To sum up, this is how simple Thej Academy makes it for you. Learning abacus online at a low cost is a great chance to not lose hold of. Similarly, we have success stories of our trained students and coaches whose skills honed from Thej Academy speak for themselves. What are you waiting for? Reach out to us today and get your online classes started.
Our Curriculum for Aspiring Abacus Teachers
Thej academy defines your program curriculum depending upon the speed you learn. We have an 8 level program consisting of operations such as addition, subtraction, multiplication, and division. Our experts help you finish all the levels in two months, along with mock tests. We help you speed up your memory skills with consistent practice.
The constant one-on-one guidance we extend aids you in completing your course on time. Also, the curriculum has one-of-a-kind features, for a better teaching-learning experience.
The brain-training modules we have in our curriculum are proven to produce the best results. This is our promise especially when it comes to online classes. Our teachers provide you with online practice worksheets that help you learn faster and better. With great teacher-candidate interaction and high-quality study material, our online abacus training program is a must-try for all aspiring abacus teachers.
What Do You Need to Get Started
To start with, Thej Academy welcomes any interested candidate who wants to become a certified abacus trainer. Once you register with us, all that you need to become a certified abacus teacher will be the following
A Convenient Place To Learn From
Good Internet Connection
An Abacus Kit and
The Passion to Learn Abacus
Why Wait?
Quarantine may indeed slow you down in terms of mental abilities, creativity, and learning. But Thej academy helps you to beat it with this wonderful opportunity. Grab this chance while it lasts, and start your own abacus training center in your place.
However, great things start from small beginnings. This might be your start to something great. so, don't wait till it's late. Call us today to get your slot booked, and you'll be a certified abacus coach in two months' time! Are you still skeptical about joining an online class for mental math coaching?
Have a look at what parents have to say about us. Trust us, this online learning program will benefit you for a lifetime!
Conclusion
Even though the world has automated options for every possible mechanical activity, a sharp brain cannot be bought.
Abacus is a historical method to calculate numbers. But we firmly believe that the abacus will be the future of learning math for kids in the coming years.
Several schools across the world have already brought abacus as a subject in their curriculum. This leaves no doubt that being a certified abacus teacher opens the door to major opportunities in no time!
To conclude, our ambition is to spread abacus and make it available for everyone, both teaching and learning. Join us today and make use of our online abacus training. Thej academy's training modules are promising and result oriented. Take a quick look at our site for any details you need, regarding the online training.
Furthermore, if you have any more questions regarding the abacus training online, please feel free to reach out to us at +91 9884 726 666.
Team Thej Academy is ready to help you!
Learn more – Online Training for Teachers