Introduction
"Great minds always look for ways to grow"
The question is, are you one of them? Well, if you are, here is an opportunity to grow. In a world full of endless opportunities, there is a constant thirst to grow and succeed. Here we are, presenting you one such golden chance, from Thej Academy.
We are looking forward to opening new branches of Thej Academy in different parts of India, teaching all the courses that we offer at our home branch at Chennai.
Yes, as we mentioned earlier, Thej Academy loves growth. As much as we love to grow and expand, we love helping other aspirants to grow and succeed too. As a part of this, we would like to bring this opportunity for interested entrepreneurs, all over India, to take Thej Academy to your hometowns. Yes, we are welcoming you with a chance to partner with us.
While it may sound overwhelming, here we are, breaking down the entire process for you.
So, grab a cup of hot coffee and get reading!
How Can I Start the Abacus Franchise?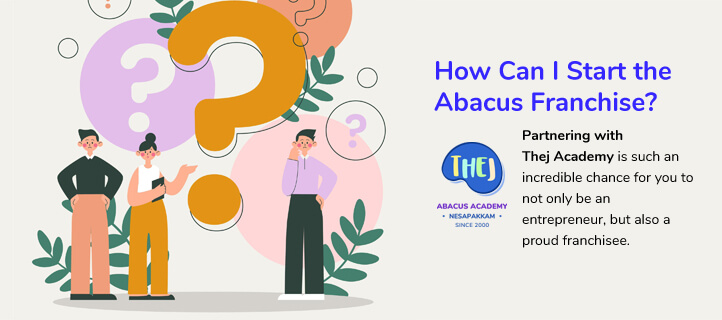 Opening an abacus institution on your own might sound huge, But while given an opportunity that comes with an entire help guide that walks you through the process, fret not! Partnering with Thej Academy is such an incredible chance for you to not only be an entrepreneur, but also a proud franchisee.
We don't have any hard rules in terms of a partnership. However, we do have our fair share of requirements. To begin with, here are our prerequisites for the interested candidate:
Be interested in teaching abacus.
It's that simple!
Our requirements for franchise ownership are as simple as that. We expect a partner who has a working idea of the abacus and the passion and interest to teach it, with zest. Teachers at Thej academy have set high bars with their quality teaching and impressive pupil management skills.
While we do not expect our partner to deliver the same quality initially, we will be glad if they warm up to it, real quick!
First Things First
Here are a few things we need to be clear on before we shake hands. As a franchisor, Thej academy believes in having certain moral regulations before we sign the franchise. We expect our franchisee to have the following
Similar business vision. Being in the education industry for 20+ years, we respect it as a service and treat it with utmost reputation. We consider it a privilege to be able to deliver knowledge to children.
Genuineness and dedication towards work. We are known for individual attention to every student. We at Thej Academy strive to achieve the finest quality of education, keeping it simple, dedicated, and keen when it comes to teaching. Every child is the same in the eyes of our teachers. But, every child we teach is special to us, too.
Treating the abacus franchise not like mere tuition but as a reputable institution. We as educators, help children learn the value of every course with our teaching methods filled with practical examples. Realizing the value of every subject they learn, boosts children to learn better. This is a significant value we have earned at Thej academy.
The end strategy must be aligned. 'Quality education for everyone at an affordable cost' is our motto. Enough said!
If you think these moral obligations sound fair and relatable to you, please reach out to us and we shall discuss further.
How Much Does It Cost to Start a Franchise?
The first and foremost investment you need to make is your time.
Coming to the finance part, it takes a minimum investment from your end, to open a franchise. This cost includes your venue, cost of setting up, hiring, admin expenses, logistics, and other miscellaneous stuff.
Considering Thej Academy success rate over the years, we promise you that your investment will be a fruitful one.
As the franchiser, Thej Academy will be most willing to assist you throughout the process of getting you set up and running. We will interview every interested entrepreneur over a call or in-person before we proceed with the partnering process. If our morals are in the same line, we're all set to go!
The actual cost of investment for the abacus franchise can be discussed only in person. But, we assure you that franchising with us will cost you a lot less when compared to our competitors.
Furthermore, here are a few things you should be aware of, before taking up any franchise.
Who Can Open Thej Academy Franchise?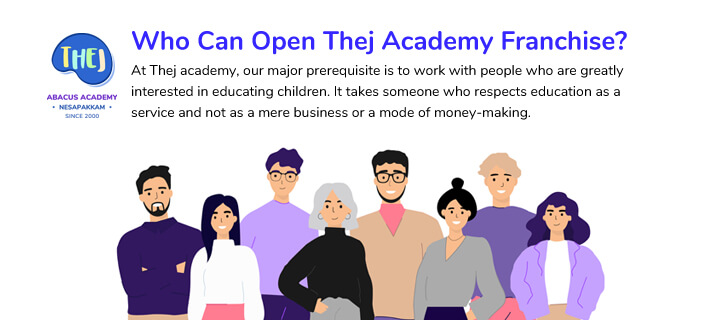 We believe in passion and aspiration more than anything else in the world.
Anyone interested in starting an abacus franchise is an ideal candidate for us. However, the minimum requirement we have is that the candidate should be a 10th graduate. Apart from that, we welcome aspirants irrespective of gender, who are housewives, Teachers, Professors, Part-time employees in the IT sector, students, aspiring entrepreneurs, etc.
You can be an individual from any profession, but an aspiring entrepreneur who is willing to partner with us.
At Thej academy, our major prerequisite is to work with people who are greatly interested in educating children. It takes someone who respects education as a service and not as a mere business or a mode of money-making.
Why Thej Academy?
Thej Academy is one of the most sought-after abacus training institutions in Chennai. We are very well known for our quality output and promising success stories from our students and their parents. We have been in the education industry for more than 20 years and are widely respected for our genuine service.
Our carefully curated techniques have helped several batches of children perform exceptionally in academics. Furthermore, we truly and solely believe that
'Helping other people grow, embarks true success.'
We listen to our students and their parents, deeply and thoroughly. We value every input they have for us and implement them in our service.
Are you not convinced yet? Please go through our website that reflects our history, hard work, milestones, and the services we offer.
Benefits of Thej Academy Franchise
We at Thej Academy do not reckon you to pay us a certain percentage of your monthly income from the abacus franchise, as a royalty fee.
Apart from the initial payment, we refrain from charging anything extra. Rest assured, we take care of the business registration, giving it an online presence. As and when you officially become our franchisee, we will provide you with your registered business email for business inquiries. Also, we will list your franchise on the official business listing page in Google, giving it an online footprint.
All that you will need is an initial investment and the resources to start a franchise. We assure you yet again, we do not demand any hidden payments from our franchisee.
Yes, you heard us right!
Franchise Requirements
While there are no hard rules to be a Thej academy franchisee, here are a few basic requirements.
The franchisee must have completed a teacher's training course from Thej academy. Teacher training courses from other academies will not be taken into consideration.
The aspirant should have a minimum education of 10th grade. This is paramount because the aspirant must be able to learn and understand abacus, to teach it.
The franchisee must have a venue with a minimum dimension of 10′ X 10′, to accommodate at least 15 children. Any space that fits this dimension will be a perfect classroom. Needless to say, facilities for proper ventilation is a must.
Our vision is to incorporate quality teaching in an affordable fee, making it available for people of all economical standards. So, the franchisee is expected to be creative and innovative when it comes to delivering quality subject knowledge. Being kind and friendly to children tops the list.
Before all of these, we expect to have someone who is extremely passionate about teaching, especially for children.
Opening More than One Thej Academy Franchise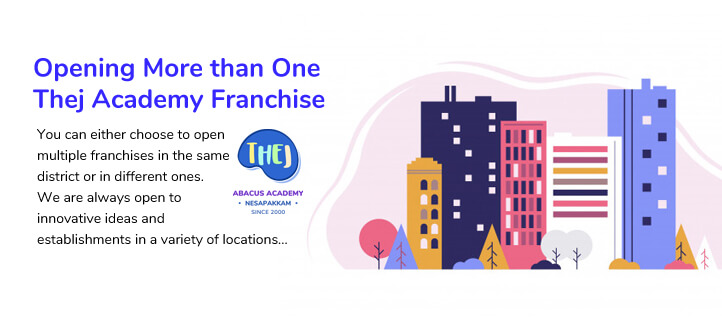 If you think you can fulfill all the above mentioned requirements, you are 'THE' right candidate to open a Thej Academy abacus franchise. Please give us a call, and we will walk you through the process.
Are you willing to open more than one franchise, well, great!
We will be more than just happy to have you in our team. The setting up process will happen in no time, and in the meanwhile you can get your venues prepped up. While it may seem overwhelming in the beginning, we will make sure you don't feel burdened.
As soon as the franchise are set up, we won't just let you hanging. We promise to walk with you whenever you feel stuck or in need of a guiding light.
You can either choose to open multiple franchises in the same district or in different ones. We are always open to innovative ideas and establishments in a variety of locations.
Other Courses for Thej Academy Franchise
The motto of Thej Academy is the holistic development of a child's memory and skillsets. We expect our franchise to teach more than just abacus. We motivate our franchisees to undergo training in all the courses the mother branch offers. This way, these courses can be added to the franchise lists too.
Offering more than one course will be a valuable addition to your franchise, don't you think?
To improve memory skills, listening power, photographic memory, perpetual capability, etc, we expect the franchise to offer a variety of courses. The list of courses Thej Academy franchise are expected to offer are as follows
Midbrain activation: A tool to improve brain activity of kids. Activating both the hemispheres of the child's brain to improve memory power and concentration. With mid-brain activation training, some children even read blindfolded.
Handwriting: Unique handwriting practice to write neatly and legibly, to help kids learn better. Neat handwriting contributes greatly to fluency, as it activates the visual perception of letters.
Singapore math: An acute and excellent way to improve children's mathematical mastery. It involves a 5-point concrete approach to problem-solving, leading to a deeper understanding of essential math concepts.
Calligraphy – Calligraphy is different from regular lettering. It is a visual art related to the execution of decorative and visually appealing writing using any writing equipment. Helps to improve their sense of artistic writing and creativity.
Conclusion
Also, for any successful franchise, the franchisor-franchisee relationship is paramount. While we don't intend to bore you by repeating the words 'Passion for teaching', we can't stress it enough.
We at Thej academy firmly believe that passion and aspiration are the fountains of any successful business, and we treat education as a service of utmost reputation. As a potential franchisee, it is only fair that you possess similar thoughts and values.
With quality service and effective marketing, we are sure any of you can be a successful franchisee, taking Thej academy to your hometowns.
Any educational franchise requires a tedious process of setting up, which includes registration, trademark, online footprint, etc. But, we at Thej Academy, make it a cakewalk.
The Abacus franchise is a forever blooming business. If you are an aspiring entrepreneur looking for a breakthrough, this might be your start. We consider passion over experience when it comes to choosing our partner. Grab this wonderful opportunity and hold hands with Thej Academy as partners!
We are giving this opportunity in a golden platter.
Check our faq page for question and answers. We are looking forward with great enthusiasm to hear from you.